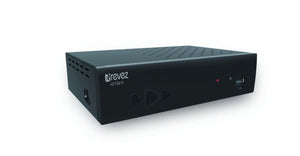 Brand new complete with 12 month manufacturers warranty
HD Combo Kit (No Dish required -Ex Sky Customer)
This Kit contains everything you need to be able to receive all the Free Digital Saorview Irish TV and Freesat UK Satellite channels on a single receiver. This is ideal for customer moving over from Sky and have retained their Sky Dish. All you need is your Sky Dish with a cable feed and a Television.

Watch BBC HD, BBC 1 HD, ITV HD & CH4 HD as well as over 200 standard digital channels from Freesat.
Watch RTE's new digital Saorview service, RTE1, RTE2, Virgin Media 1,2 & 3, RTE News, RTE Junior & ,  RTE2 +1 as well.
This receiver requires a feed from both a satellite dish and a terrestrial TV aerial.
Use one remote to watch both services.

Very user friendly.

Recording features:

With an external powered hard drive you can;
Record Satellite , watch Terrestrial

Record Terrestrial, watch Satellite

Record Terrestrial, watch another Terrestrial
Look at photos or listen to MP3 files via your memory stick or external hard-drive.
Satellite Combo Kit Contents
Edision HD Combo or Revez HD Combo (Pre-programmed)

NO DISH INCLUDED

HDMI to HDMI Cable - 1.5m

TV Aerial & Wall Mounting Kit

Satellite Installation Kit
It is a MPEG4 receiver capable of showing RTE2 in HD (High Definition)

It automatically scans all 8 Saorview channels in sequence via Automatic or Manual scan options. (you will need to know the UHF channel of your local transmitter for the Manual scan)

As well as a HDMI output, it has a scart output- it can downscale HD broadcasts so you can watch them on older scart only TV's

Shows both HD (High Definition) and SD (Standard Definition) channels

Built-in USB port allows you to record channels on the external storage

Allows playback of various media, including MP3 music andMKV and XviDmovies