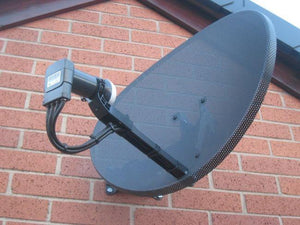 Basic service call €80. 
The Saorview Digital Switchover operation is underway in Ireland and may require many existing TV aerial systems for homes and commercial premises to be upgraded or replaced.
To benefit from the new improved signal quality and the new channels available in High Definition from Saorview and Freesat, a modern digital TV aerial and satellite combo system is recommended.

Freesat.ie is a leading supplier and installer of Saorview and Satellite TV equipment in Ireland. We also offer the below services.
Service Calls:
Whether you are a Freesat.ie customer or not, we offer a call out service to repair your dish, aerial, receivers or general cabling issues from €80 to €90. 
Satellite receivers re-tuned at your house for €70 or at €20 at our Fairview store (existing customers-€15)
Sky Service Calls:
We offer the following Sky services from €80:
Re-alignment of Sky Dishes due to wind or storm damage

Upgrade of LNB on dish to larger output of 4 or 8

Sky red eye, watch & control your Sky box from another room i.e Bedroom

Sky Subcriptions
Complete HD Saorview & UK Free-to-air freesat systems installed from €279
Complete Official Freesat High Definition systems installed from €199
Spanish / French / German/ Italian Systems:
Complete packages Standard Definition systems installed from €229
Spanish

French

German

Portugese

Italian

Polish

Russian

Arabic

& many more please enquire