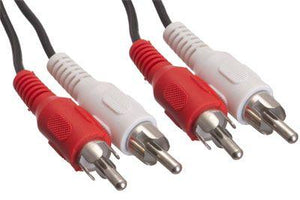 The dual RCA audio patch cable is typically used to connect audio devices and speakers. The connectors are color coded for left and right channels and feature strain relief to protect the cable and extend it's life.
Features:
Length: 3M

Left and right color coded RCA connectors

Molded strain relief

Used for connecting audio devices
Q: What are RCA connectors commonly used for?
A: RCA cables have a variety of uses. Mainly they are used for audio and video on anything from home theater applications to cameras.
Q: I see RCA's defined as composite and component. What is the difference?
A: While RCA connectors all look the same, the cables they are attached to make them different. Composite is for single video and can also be used for audio. Component uses 3 different RCA connectors for video.
Q: What is the difference between triple, dual and single RCA?
Single: 1 cable that can do audio or video
Dual: 2 cables, typically for audio. A left and right channel
Triple: Audio and video. 3 cables all tied together. 1 video, 2 audio.