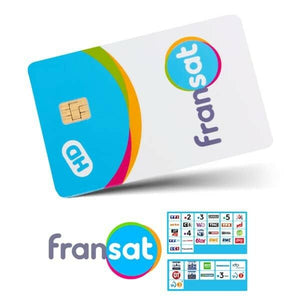 Product Description
FRANSAT OFFICIAL SUBSCRIPTION FREE FRENCH TV SMARTCARD
LATEST 2022 VERSION!
Replacement smartcard for FRANSAT French TV viewers. As from mid-2019 version PC5 cards will no longer be valid. This item is the latest version viewing card, either PC6 (6000) or PC7.
The Fransat viewing card is an essential component for stable viewing of Fransat channels particularly if you subscribe or wish to subscribe in the future to the other services offered on the Fransat platform such as BIS, RMC and beIN channels.
This card will only work in official Fransat TV products such as a Fransat HD set top box or Fransat CAM.
Full Channel Line-Up:
    TF1
    France 2
    France 3
    France 4
    France 5
    M6
    Arte
    France O
    Direct 8
    W9
    CANAL+ (Unencrypted Programmes)
    TMC
    NT1
    NRJ
    LCP
    BFM TV
    iTELE
    Virgin 17
    Gulli
  HDTV
    TF1 HD
    France 2 HD
    M6 HD
    CANAL+ HD (Unencrypted Programmes)
    ARTE HD
    HD1
    L'Equipe 21 HD
    6ter HD
    Numero 23 HD
    RMC Decouverte HD
    Cherie HD
Technical Information:
Official Fransat Viaccess Viewing Card (time limit 4 years)
Satellite: Eutelsat 5W / Atlantic Bird at 5 degrees West
Frequencies: 11.096 V, 11512 V, 11555 V, SR 29950, FEC 7/8
Minimum 60cm Dish Required