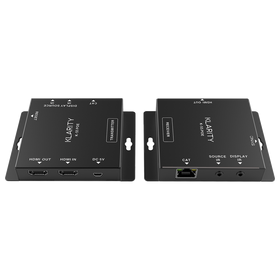 Klarity HDMI Extender Over Single CAT5/6 PoE

HDMI Over Single CAT Extender
PoE - Receiver requires no power
Extend up to 50m 4K / 70m 1080P
A truly smart solution for HDMI CAT Extenders.  The K-70 POE only requires power to the HDMI Transmitter. The HDMI Receiver requires no power as it will receive the power automatically over the same CAT cable as the audio & video signal.
The super slim receiver is only 15mm thick so can be easily hidden from view, behind a TV or monitor.
The K-70 POE extender enables lossless transmission of a HDMI source over single CAT cabling to a display up to 70m away.  The unique and useful HDMI Loop through allows the HDMI Transmitter to split the video to a local TV display, saving on the cost and space of a 2-way HDMI Splitter.
The extender offers uncompressed 1080p HD video@60Hz with 24bit colour video transmission and offers full 3D compatibility.  The included bidirectional IR control allows you to control your device using it's remote control.
True EDID management by DIP switches is supported to configure handshaking between connected devices.  Alternatively, the intuitive Sync button means you no longer have to use DIP switches to adjust the cable length distance.  Just press the button and everything is done automatically.
Features:
 HDMI Over Single CAT Extender
PoE - Receiver requires no power
Extend up to 70m
Full HD 1080p 24fps 50/60Hz
4k30HZ 4:4:4
Auto EDID
Auto cable length detection
IR Control
HDMI Loop through
Transmitter power supply included
*Please note, "up to" distances above are based on full copper CAT6 cable. For full copper CAT5e cable, distances will be around 10m less.