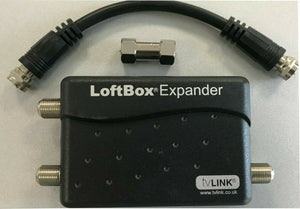 The loftbox expander is used to allow a signal from a Satellite dish to be placed on the same cable as a Terrestrial signal.
Normally used in conjunction with the Loftbox.
Installation Diagram Guide:Click Here
Fully compatible with the tvLINK® system.
Allows connection of Sky+ and Sky HD to an existing LoftBox® system.
No further cable runs required.
The LoftBox® Expander has been designed to allow two LNB outputs to be connected to an existing LoftBox® distribution system.
It is ideally suited for when a SKY+ receiver is being installed. The Sky+ requires two feeds from the LNB (dish), so where there are no spare cables available to take the extra feed, the LoftBox® Expander combines the two feeds onto one cable.
The unit operates by adding the additional dish signal onto the returning UHF feed between the RFout2 port of the Sky set-top box and the UHF2 port of the LoftBox®. A Diplex plate WILL be required in the living room in order to successfully extract the second dish signal ready for connecting into the satellite set-top box (see system diagram).