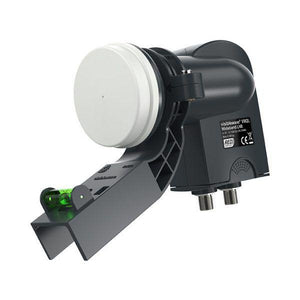 AE8046 SkyQ Wideband LNB 2 Output

Finished in grey, supplied with Sky™ compatible bracket including built-in spirit level.The Wideband LNB is for SkyQ satellite receivers. It is designed to fit standard dishes with a 40mm collar or MK4 dishes with adaptor supplied(AE8070 SKY Zone 1 Dishface or AE8075 SKY Zone 2 Dishface).

Technical Specification


Input Frequency10.7 ~ 12.75 GHz
Output frequencyVertical: 290 ~ 2340 MHzHorizontal: 290 ~ 2340 MHz
L.O. frequencies10.41 GHz
L.O. Stability+/-0.5 MHz (max) @ Room Temp.+/-1 MHz (max) @ -40°C ~ +60°C
L.O. Phase Noise-50dBc/Hz @ 1kHz (max.)-75dBc/Hz @ 10kHz (max.)-100dBc/Hz @ 100kHz (max.)
Noise Figure0.1 dB (typ.)
Conversion Gain50 dB (min) / 60 dB (max)
Gain Flatness @ 26MHz+/-0.5dB (typ.)
Gain Variation7dB (max.) @ full band
Cross Polar Isolation25 dB (typ.)
Image Rejection40 dB (min)
Current Consumption0.85W (max.) (70mA @ +12V DC)
Power Voltage9 – 19V DC
Connector Type75 female F-connector
Output Spurious
Operating Temp.-40'C ~ +60'C
RED ComplianceEN 303 372-1
View documentation for this product here.