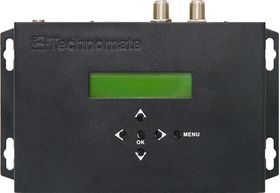 Technomate TM-RF IR 4K HDMI DVB-T RF Modulator
HDMI to DVB-T signal modulator. Ideal solution for Hotels, Digital Signage, TV Shop, Casinos, Exhibitions etc.
HDMI DVB-T RF Modulator
4K High-Definition over RF
Converts an HDMI signal into an HD digital Freeview DVB-T compatible signal
Cascadable
Automatic EDID & HDCP Communication
Requires a DVB-T or DVB-T2 compatible TV

Connect any HDMI device such as a satellite receiver, CCTV system, Blu-ray player, etc. and watch it in Full HD 1080p / 4K over a coaxial RF system.

You can also watch on many TVs using a passive splitter or amplifier (both sold separately, explained further below*).

If you already have an existing Standard Definition RF distribution system but your device is in High-Definition, just change your existing RF modulator to this and watch in High-Definition 1080p on a DVB-T or DVB-T2 compatible TV. The cabling is exactly the same.

Can also be cascaded with multiple TM-RF HD so you can watch different devices on different TVs! Such as CCTV on TV1, Satellite on TV2, etc.

All settings are controlled via the onboard menu screen and buttons. Automatic HDCP and EDID management continuously monitors communication between connected devices.

Installation Notes:

*depending on the lengths of coaxial RG6 cables used, a passive splitter up to 8 outputs for up to 8 televisions can be used. Mains powered amplifiers/splitters can also be used as well as bypass models which can send IR Infra-Red remote control signals, however, an attenuator may be required (attenuators decrease signal dB) as powered amplifiers increase signal strength. If an attenuator is required, we recommend one that is either 24dB or 30dB.
What is RF IN?

The RF IN is only to be used when connecting more than one TM-RF HD in a cascade system
Adding an Aerial?

If you're connecting an Aerial into the system, you will require a 2-Way DC Pass Splitter. You will need to connect the aerial into one of the two outputs on this splitter (marked OUT) and the TM-RF HD to the other output on the splitter. Then connect the input (marked IN) to your television or amplifier.
Where to connect the Attenuator?

If connecting the RF OUT of the TM-RF HD directly to an amplifier, just add the Attenuator in between the two
If adding an Aerial into the system, add the Attenuator in between the RF OUT of the TM-RF HD and one of the outputs (marked OUT) on the 2-way splitter
Lip Sync issues?

The TM-RF HD has been tested with many devices such as Sky, Virgin, BT, Blu-Ray Players, Playstation, Xbox and there are no issues.

HDMI DVB-T RF IR Modulator
4K High-Definition over RF
Cascadable
Automatic EDID & HDCP Communication
Send 4K High-Definition video quality with audio over an RF distribution system
Converts an HDMI digital and Composite signal into an HD digital Freeview DVB-T compatible signal
Requires a DVB-T or DVB-T2 compatible TV
LCD screen for easy setup & configuration
HDMI
HDCP 1.3 Compliant
DVB-T COFDM Modulation
LCN, Channel Name Edit
USB - software updates only
Wall Mountable Metal Housing