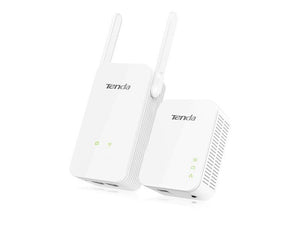 Comes with the latest Homeplug technology, PH5 can provide up to 1000Mbps powerline speed and 300Mbps wireless transmission rate which is perfect for your home entertainment companion.Since Wi-Fi is transferred by powerline, you can enjoy HD movies and online gaming to every room. What's more, you can enjoy seamless wider Wi-Fi just by pressing Wi-Fi clone button. Plug and Play, PH5 helps eliminate Wi-Fi blind spot and weak signal area by being plugged into a power socket to create a highquality Wi-Fi connection.
Transfer rate up to 1000Mbps over powerline and wireless rate up to 300Mbps brings blazing-fast Wi-Fi speed, making it perfect for bandwidth demanding activities.

Compliant with HomePlugAV2 and IEEE 1901 standard, downward compatible with HomePlugAV standard.

Easily extend Wi-Fi range at a push of Wi-Fi clone button.

Considerate smart Wi-Fi Schedule can turn on/off Wi-Fi automatically to create low-power consumption and smart E-life for your whole families.

Gigabit ports create secure wired networks for smart TVs, PCs or games consoles at high speed, making PH5 is a perfect home entertainment 

companion.

Encryption at a push of button on paired devices.