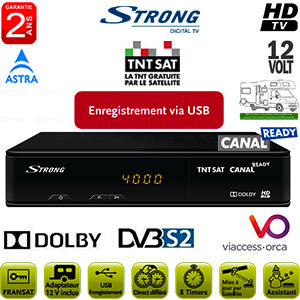 MPEG- 4 HD Receiver for TNTSAT channels in high definition and as well as standard definition
Viaccess TNTSAT smart card reader
Quick installation of TNTSAT channels
Reception of digital Free-To-Air TV and radio programmes via Astra 19.2 East and any other connected satellite 
(1)
USB port for recording of TV programmes
Favourite lists for TV and radio programmes
Excellent audio and video quality 
Display shows the channel number in operation and the time in standby
8 timers with 3 modes for recording and/or standby (daily, weekly, monthly)
Electronic TV Programme Guide (EPG) for on screen programme information of present/following event information up to 7 days
(2)
4000 channels memory capacity 
Fast channel zapping, automatic channel sorting
Teletext and full multi-lingual DVB subtitling supported
(2)
Parental lock function for menu and rating control for channels 
Compatible with 220 V/12 V power supply for mobile use (caravaning, boating, etc. - available separately)
On screen display (OSD) in English and French
Software update via satellite (OTA) and external USB storage device.
Signal strength and quality bars for digital transponders 
Supports DiSEqC 1.0, 1.1
Low power consumption 
Environment friendly: automatic standby function if not used for a longer time
HDMI output resolution: 1080i, 720p, 576p
Digital sound through coaxial output (S/PDIF) by connecting to digital amplifier 
Connectors:
 SAT IN, SAT OUT, HDMI, 1 SCART TV (RGB/CVBS), S/PDIF, 3 RCA (Audio L & R, Video), USB 2.0, IR IN, power connector
Accessories: 
Remote control, 2x AAA batteries, power adapter 12 V
FRENCH TNT + HD CHANNELS

TF1 HD
FRANCE 2 HD

FRANCE 3

FRANCE 4

FRANCE 5

M6 HD
ARTE HD

FRANCE O

DIRECT 8

W9

TMC

NT1

NRJ

LCP

BFM

ITELE

EUROPE TV

GULLI

TV5 MONDE
You will require a satellite dish aligned to Astra 1 (19.2 east) in order to receive this sign.
If you can an existing sky dish we can add a piece of hardware to it in order for you to receive the TNTSAT France sign from the same dish.
Please email or call for more details.