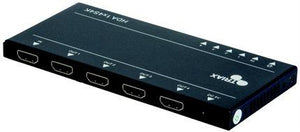 TRIAX HDA splitters are ultra-slim (11mm) and compact enabling both a professional and discreet installation.
Designed with the installer in mind, cable management is optimised through all HDMI cables, both in and out of the splitter from the same side, while the unit can also be wall mounted via supplied brackets.
The feature packed range is HDCP 1.4 complaint, provides transmission of 1080p, 3D, 4Kx2K@30Hz and a high bandwidth up to 10.2bps. LED indicators allow instant recognition when a HDMI source is input or when a HDMI connection is made with a sink device. SMART EDID management automatically adopts the EDID of the first detected display. The splitter can also be hot plugged without loss of picture and cascaded up to 3 times with HDMI equalisation. 
Optimised cable management- all HDMI cables enter and leave the product from the same side
Transmission of 1080p, 3D and 4Kx2K@30Hz
LED indication
Input Source HDMI recognition LED indicator- HDCP present LED indicator- Solid LED when present, flashing when no HDCP
Output LED indicators- show a HDMI connection to Sink device
Hot plug without picture loss
HDCP 1.4 compliant
High Bandwidth 10.2Gbps
Low power consumption
Firmware upgrade- online support
Auto EDID via output port one
SMART EDID management, automatically adopts the EDID of the first detected display
Multi region Power supply
Cascadable up to 3 times