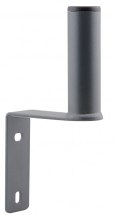 Height (mm): 100
Pipe diameter (mm): 32
The distance from the wall (mm): 100
Material: Steel
The product is certified by the German TÜV Rheinland required by the EU.
This certificate guarantees the highest quality product that combines quality, durability and reliability.  
Confirms compliance with all standards of safety, stability and mechanical strength.