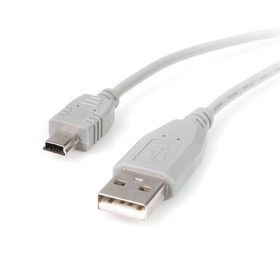 the USB 2.0 A Male to Mini B 5 Pin Male
Connect many devices like PSP's, digital cameras, Mp4 players, mp3 players, some caddies, hubs and many more peripherals to your PC.   The flat 'A' plug connects to your PC and the mini 'B' 5 pin plug into your device.
Length: 2.4m.
High quality shielded cable for upto 480Mbps transfers
Colour: White
1 x  Male 'A' Plug to 1x Male Mini B 5 pin Plug.